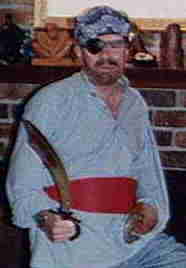 Some members of the list had trouble coming to terms with the above. Brother Bobby, shown at left in his guise as The Enforcer, kindly drew up the following, comprehensive, list of rules:
There are no rules.
When in doubt as to whether something violates a rule, check Rule 1.
Do what thou wilt shall be the whole of the rules, as long as it is not in violation of Rule 1.
Tom Mellett, as owner of this private list, makes and enforces all the rules. If you don't like the climate on Steiner98, you can unsubscribe.
Any disputes while Tom is not available will be referred to Moderator Helen Frieze. Anyone with a question about enforcement can go to Helen Frieze.
Anyone found in violation of these rules will be subjected to an Inquisition.
Any amendment to this list of rules must be approved in advance by Tom Mellett.